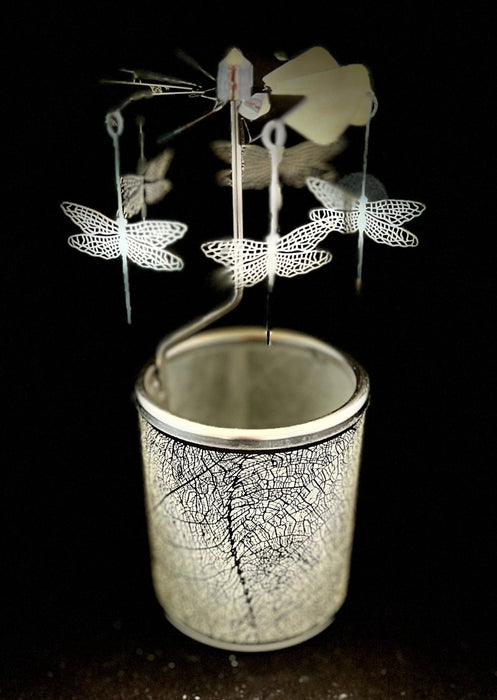 Dragonflies are said to have been in existence since before the dinosaurs. Did you know that they almost have a 360 degree vision? Apart from not seeing directly behind them, they can see everything around them. They can reach speeds of up to 35 miles per hour and it is believed that if one lands on your head, it is a sign of good luck. The base of the carousel has a leaf wrapped around a frosted glass, with very beautiful and intricate striations visible. 
Compatible with regular Tea Lights and our Mini Candles (1 oz).
Additional product info:
Dimensions (assembled): 2.5 inches x 2.5 inches x 6.5 inches

Material: Iron + Aluminum + Glass

Color: Silver

Each package includes 1 frosted votive base, 1 support bar/spindle, 1 rotary blade, and 5 ornaments with hooks.

Package does not include tealight or mini candle.

Total weight with packaging: 11 oz
Recommended Tealight Pairing: Oakmoss/Amber, Lavender, White Tea
Recommended Mini Candle Pairing: Divine, Greenwood, Uplift
Free Shipping on all orders. Always.