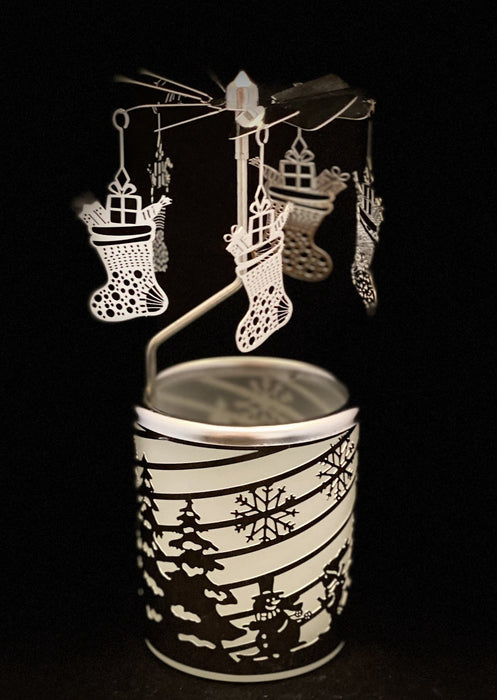 Legend has it, a long time ago, a good-natured widower was having a hard time providing dowry for his three daughters. The village townsfolk wanted to help him and St. Nicholas heard of his plight. That night, St. Nick snuck in and left enough coins as dowry for all three daughters, which he left inside the stockings that were hanging out to dry by the fireplace. This new carousel has a wrap-around design as several stockings hang from the rotary blade of this beautifully-decorated votive glass.

Compatible with regular Tea Lights and our Mini Candles (1 oz).
Additional product info:
Dimensions (assembled): 3.15 inches x 3.15 inches x 7 inches


Material: Iron + Aluminum+Glass

Color: Silver

Each package includes 1 base, 1 stand, 1 rotary blade, and 5 ornaments with hooks.

Package does not include tealight or mini candle.

Total weight with packaging: 5.5 ounces
Recommended Tealight Pairing: Candy Cane, Christmas Tree
Recommended Candle Pairing: Candy Cane, Holiday Tree, Warm Hugs, Winter Frost, Yuletide Greetings
Free Shipping on all orders.