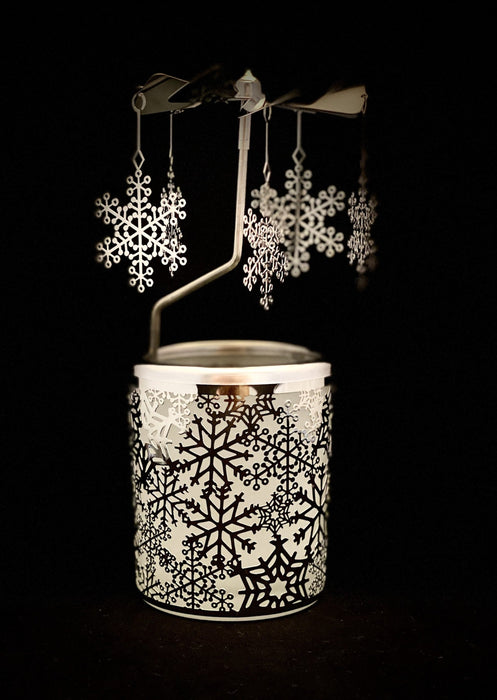 The Spellbinding Snowflake
Ever wonder why the snowflakes have symmetrical sides? It's because the ice crystals arrange themselves in a predetermined order (also known as crystallization) to form a six-sided snowflake. It is the temperature at which the crystals form that determine their basic shape. The long needles are formed when crystals are formed at approximately 23F while flat plate-like crystals are formed at approximately 5F. Five symmetrical snowflakes dance when you place a tealight in the votive glass. 
Compatible with regular Tea Lights and our Mini Candles (1 oz).
Additional product info:
Dimensions (assembled): 2.5 inches x 2.5 inches x 6.5 inches

Material: Iron + Aluminum

Color: Silver

Each package includes 1 frosted votive base, 1 stand, 1 rotary blade, and 5 ornaments with hooks.

Package does not include tealight or mini candle.

Total weight with packaging: 10.3 ounces
Recommended Tealight Pairing: Gingerbread, Frasier Fir, Christmas Tree
Recommended Mini Candle Pairing: Princess, Pink Champagne, and Magical Unicorn

Free Shipping on all orders. Always.