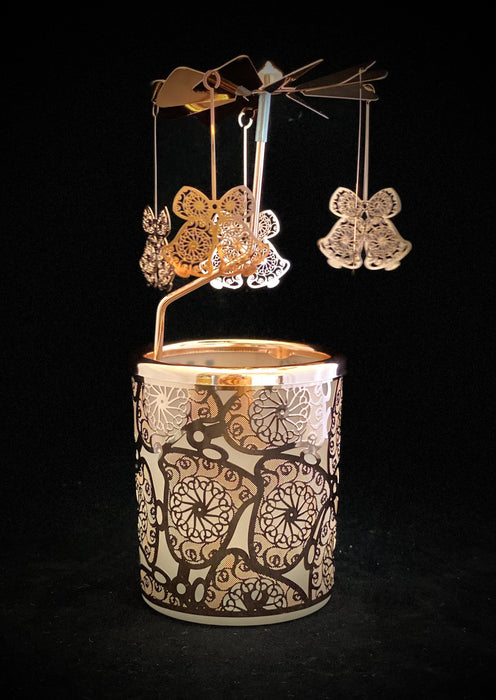 The Copper Bells (CLEARANCE, FINAL SALE!)
Bellfounding, according to Wikipedia, is the casting and and turning of large bronze bells in a foundry for use in churches, clock towers, and public buildings to signify the time or an event or as a chime. Bells intentionally made for producing sound are generally casted using bell metal, an alloy of bronze, and is usually made of copper and tin (ideally 80% copper and 20% tin). This allows the bell to "vibrate like a spring" when struck instead of cracking and are well known for their "resonance" and "attractive sound."
Two pairs of copper bells with intricate design hang from the rotary blades while the votive base has clusters of copper bells. You can almost hear their resonant sound.
Compatible with regular Tea Lights and our Mini Candles (1 oz).
Additional product info:
Dimensions (assembled): 2.5 inches x 2.5 inches x 6.5 inches

Material: Iron + Aluminum

Color: Rose Gold

Each package includes 1 frosted votive base, 1 stand, 1 rotary blade, and 5 ornaments with hooks.

Package does not include tealight or mini candle.

Total weight with packaging: 10.3 ounces
Recommended Tealight Pairing: Frasier Fir, Apple, Candy Cane
Recommended Mini Candle Pairing: Holiday Tree, Peach Perfect, Candy Cane, Pink Champagne

Free Shipping on all orders. Always. All sales final. No refunds, returns, or exchanges.