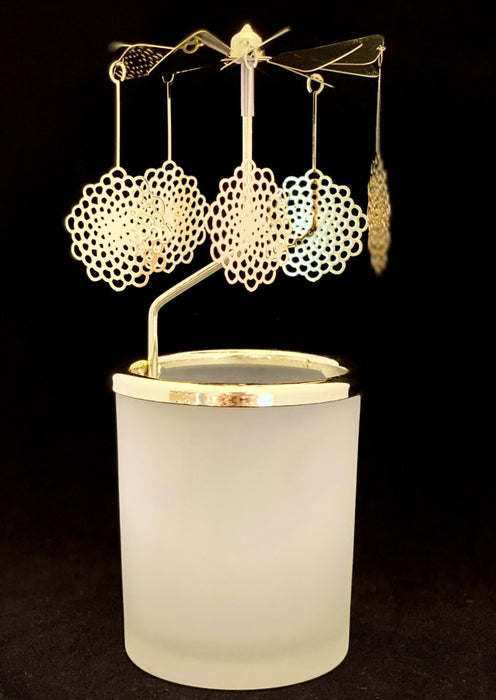 The Brave Dandelion (CLEARANCE, FINAL SALE!)
Dandelions symbolize the sun (through its golden head), the moon (through its white puffy seeds), and the stars (when the seeds are blown into the wind). Therefore, it is not a surprise that it represents many good things such as warmth, healing, intelligence, happiness, endurance, determination, perseverance, and hope. Basically, you can't go wrong with this plant. And they're fun to blow at, especially on a windy day.

Available in one size, medium, this candle carousel can hold a tea light or one of our Mini Candles comfortably. 
Compatible with regular Tea Lights and our Mini Candles (1 oz).
Additional product info:
Dimensions (assembled): 2.5 inches x 2.5 inches x 6.5 inches

Material: Iron + Aluminum

Color: Rose Gold

Each package includes 1 frosted votive base, 1 stand, 1 rotary blade, and 5 ornaments with hooks.

Package does not include tealight or mini candle.

Total weight with packaging: 10.3 ounces
Recommended Candle Pairing: Moonlit Memories, Magical Unicorn, Balance, and Unwind
Free Shipping on all orders. Always.