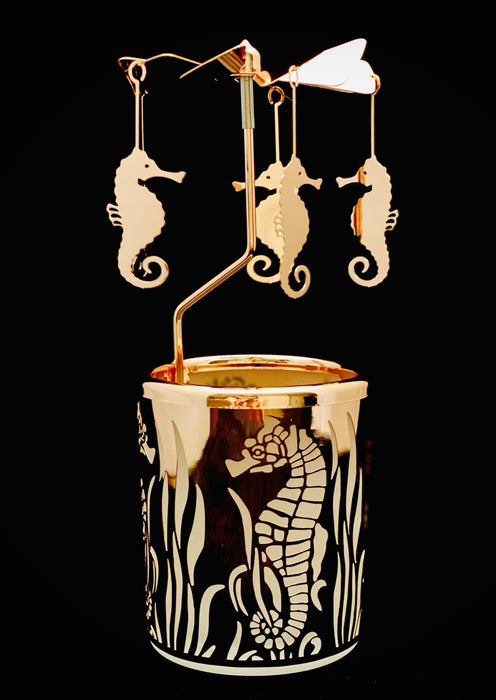 Seahorses are a symbol of strength, power, and luck. If you have ever been to or seen a picture of the Trevi fountain in Rome, you see an image of a powerful Triton next to a majestic winged horse coming out of the water. 
IRL, seahorses are part of the genus hippocampus, found in shallow and temperate salt waters. The seahorses mate for life, are monogamous, and the males carry the unborn young to term. They have a flexible and well-defined neck, and a crown-like spine or horn on its head called the coronet, which makes them look noble and royal.

Available in one size, medium, this candle carousel can hold a tea light or one of our Mini Candles comfortably. 
Compatible with regular Tea Lights and our Mini Candles (1 oz).
Additional product info:
Dimensions (assembled): 2.5 inches x 2.5 inches x 6.5 inches

Material: Iron + Aluminum

Color: Rose Gold

Each package includes 1 frosted votive base, 1 stand, 1 rotary blade, and 5 ornaments with hooks.

Package does not include tealight or mini candle.

Total weight with packaging: 10.3 ounces
Recommended Tea Light Pairing: Magical Unicorn, Oakmoss/Amber, Lavender
Recommended Mini Candle Pairing: Moonlit Memories, Magical Unicorn, Balance, and Unwind
Free Shipping on all orders. Always.